16.06.2017
Confederations Cup FIFA 2017 - cheer for ours!
From the 17th of June till 2nd of July in Russia will host the FIFA Confederations Cup 2017. We invite guests of the Domodedovo Airhotel restaurant for live broadcasts of the games.
17.04.2017
Happy Victory Day, dear veterans!
From 7 to 9 May 2017 for veterans of the Great Patriotic War and accompanying persons is offered FOR FREE hotel accommodation as well as free access to the Restaurant at the "buffet".
20.02.2017
Maslenitza & Lean menu
The "AirHotel" restaurant invites all taste the dishes Maslenitza menu, which includes pancakes and tradition drinks.
From the 27th of February till the 15th of April, 2017 we offer special Lean menu.
16.01.2017
AirHotel free bus stop - changes from January, 17 2017
Dear guests! From 17th of January 2017 starting at 11a.m. the stop of free minibus Airhotel is located in front of gate #2 at public transport parking place.
Oktoberfest at the AirHotel restaurant
15.09.2016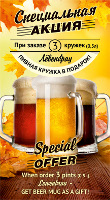 From September, 14 to all Lowenbrau beer likers should definitely go for a mug or two in the AirHotel restaurant. When you order 3 pints - get beer mug as a gift!