24.04.2018
Happy Victory Day, dear veterans!
From 7 to 9 May 2018 for veterans of the Great Patriotic War and accompanying persons is offered FOR FREE hotel accommodation as well as free access to the Restaurant at the "buffet".
19.02.2018
Lean menu
From the 19h of February till 8th of April, 2018 the "AirHotel" restaurant invites all taste the dishes of special Lean menu.
23.10.2017
The AIRHOTEL Management Company turns 5 and celebrates its first anniversary!
On October 23, 2017 the AIRHOTEL Management Company turns 5 since its establishment. Two new interesting objects enlarged the company's portfolio over the previous year.
26.09.2017
Oktoberfest at the AirHotel restaurant
From September, 25 to all Spaten beer likers should definitely go for a mug or two in the AirHotel restaurant.
Airhotel Domodedovo - winner of the "Bronevik.com Star - 2016"!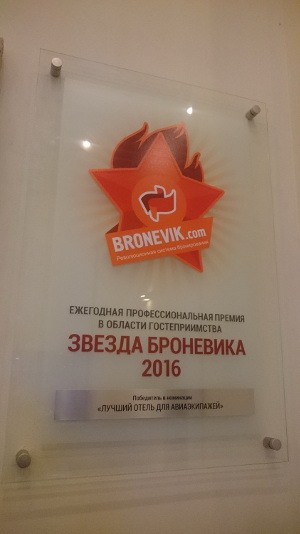 12.12.2016
The Airhotel (Domodedovo) became the best hotel for airline crews.
According to the results of the popular vote and selection by the expert jury in the category "Best hotel for airline crews" in 2016, the winner was our hotel. Thank you to everyone who voted for Airhotel Domodedovo and congratulations to the entire hotel staff!