24.04.2018
Happy Victory Day, dear veterans!
From 7 to 9 May 2018 for veterans of the Great Patriotic War and accompanying persons is offered FOR FREE hotel accommodation as well as free access to the Restaurant at the "buffet".
19.02.2018
Lean menu
From the 19h of February till 8th of April, 2018 the "AirHotel" restaurant invites all taste the dishes of special Lean menu.
23.10.2017
The AIRHOTEL Management Company turns 5 and celebrates its first anniversary!
On October 23, 2017 the AIRHOTEL Management Company turns 5 since its establishment. Two new interesting objects enlarged the company's portfolio over the previous year.
26.09.2017
Oktoberfest at the AirHotel restaurant
From September, 25 to all Spaten beer likers should definitely go for a mug or two in the AirHotel restaurant.
Rooms and Rates
ECONOMY

STANDARD

CLUB

CLUB LUX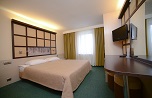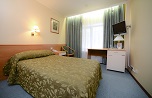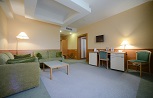 The Domodedovo AirHotel Complex is pleased to offer accommodation in various categories of rooms in its standard and club buildings that are distinguished by their original and detail-oriented design.
The standard building houses our "Economy" and "Standard" rate rooms, which have everything a guest would require for a comfortable rest, even if only for a few hours.
The club building holds premium rate rooms, both "Club" and "Club Lux." The spacious and modern rooms of the club building are ideal for work and rest. The rooms are equipped with central air controlled by in-room thermostat.
Every room in the hotel is equipped with an electronic, individually-coded lock, a fire-suppression system, soundproof windows, a television with channels in several languages, a fridge with mini-bar, and comfortable furniture. All of our rooms are non-smoking. Rooms are available for those with limited mobility.
Guests can make use of the following without additional fees:
Free Wi-Fi
Round-the-clock room service
Gym and sauna №2 (small)
Business center services.
We are happy to announce our own online reservation system with instant confirmation sent to your e-mail. You can make a Non-guaranteed reservation or prepay reservation and be sure your room is Guaranteed for late arrival. Now you don't need to fill out and send authorization forms.
For a complete list of the hotel prices, please click here.
Check-in: 2:00 p.m.
Check out: 12:00 a.m.